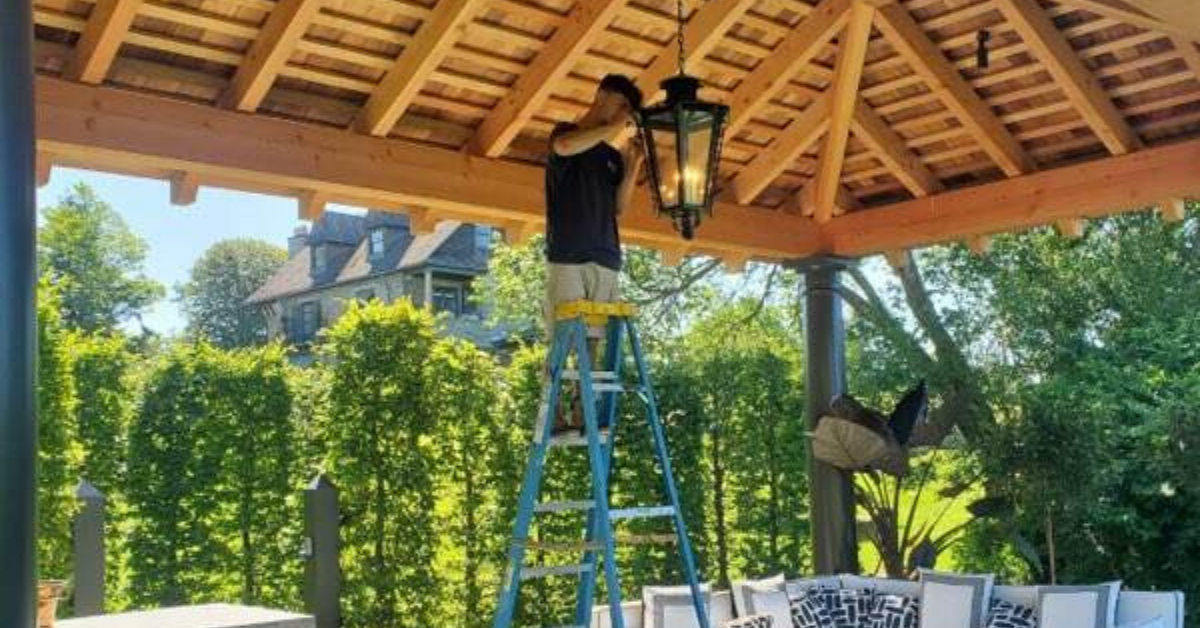 "Do I need an electrician to change my light fixtures?" This is one of the most common questions we hear and one of the most researched online. Our quick answer is yes! Changing a light fixture, or even swapping it with another of a similar size and style, involves electrical wiring that could have been damaged, loosened, or frayed.
Even if the wires are intact, they must be reconfigured to work properly with your updated fixture. Unless you have professional training and are up to speed on the latest codes and safety protocols, it's unsafe to handle electrical wires on your own.
Oftentimes when clients are looking to update their light fixtures, they're also upgrading by changing the style or choosing a fixture that makes a bolder statement. These types of jobs require a licensed professional electrician. The electrician can determine what the new fixture needs to work properly and will bring to life the customer's vision safely and efficiently.
Aside from swapping out light fixtures, there are other services that many don't realize they should hire an electrician for. Here are some of them.
Lighting Design Schemes
Updating a home's light fixtures is one way to improve its aesthetic. If you're looking to take it further, make updated fixtures part of a bigger lighting design plan to improve the style and functionality of your lighting.
Have you ever walked into a room and it just felt right? Lighting has a lot to do with creating that feeling and setting the mood. Licensed electricians are also experts when it comes to lighting design, which blends a mix of overhead, ambient, and task lighting to create depth and an inviting, appealing feeling. They can work with you on placement, fixture styles, and more to bring your entire vision to life in a single room or throughout your home.
Electricians are also aware of common lighting design pitfalls, from harsh or dim lighting and more, and can advise on how to avoid them.
Electrical Service Upgrades
When you're making updates or additions to your home, it may require an increase in electrical capacity to be able to handle the changes. For example, older homes weren't built to support as many electrical devices as today's world offers. A home that was built decades ago without a pool or hot tub wasn't equipped to handle the extra energy these power-hungry additions require.
The answer here is an electrical service upgrade which, simply put, is an update to your home's electrical system so that it can safely handle the amount of energy you need it to. Licensed electricians are trained and accustomed to performing this service, which requires changing the electrical connections and distribution panel, responsible for dividing the power feed into circuits and holding the circuit breakers.
There are specific protocols in working with these connections and panels. Your licensed electrician will be well-versed in this process and is trained to keep your family safe while making sure your home is ready to support your changing energy needs.
Updating Outdated Wiring
Over time, your home's electrical wiring can break down and start to fail. Maybe your lights are flickering in a certain room. Perhaps a fuse blows when you use your microwave. Sound familiar? These are noticeable signs that there's an electrical issue creating problems that need to be resolved for functionality and safety reasons. But remember, issues may also go undetected and are harder to find and resolve without a trained eye.
In other cases, especially in older New England homes, your property may be equipped with electrical wiring that is outdated and potentially dangerous. Knob and tube wiring is one such example and can present a fire hazard.
From loose or disconnected wires to outdated electrical systems, having your electrician perform electrical wiring inspections is a key part of home safety.
Whatever your lighting needs or goals, working with a licensed electrician will keep your home and loved ones safe, while bringing your property up to speed to handle your energy needs.