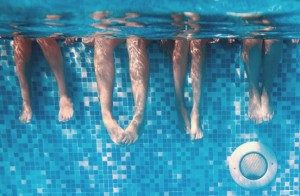 Our crew has handled a lot of pool and spa electrical wiring. It's common knowledge that summer is the best time to enjoy your pool in New England. But what about lighting it — or installing it in the first place? It's important to plan for pool work in and around the pool area before the ground is frozen, and not in the time when you'll want to be actively using it. Simply put, our golden rule around is this: Plan to do pool work in fall, and patio work in the spring.
What do we mean when we say "pool work"? Here are some examples of electrical projects in and around the pool area that help you maximize your pool time during those summer months (that never quite seem long enough!).
Underwater pool lighting: An underwater pool light helps you make the most of your pool, day or night. Your safest option is having an underwater pool light installed in the vinyl liner or concrete during pool construction, so this one requires some planning ahead. The installation of a pool light must be done according to manufacturer specifications, and must be compliant with building codes for safety. LED pool lights are most popular, lasting 5-6 times longer than their incandescent counterparts. It typically only takes one bulb to light a traditional residential pool. Fiber optic pool lights are also available, but have lost popularity in recent years, since LED lights illuminate the water more effectively.
Pool wiring conduit: Water and electricity don't mix, so as mentioned, it's critical that you leave pool lighting to a licensed professional. This includes the use of an approved electrical conduit that holds the pool lighting wires. Once professionally installed, it runs from your pool light to the power junction box, then to the breaker panel. The conduit should be installed at the same time as your pool lighting for safety and consistency.
Pool pump wiring: Wiring a pool pump is a critical step in getting your pool up and running all summer long. It takes knowledge of your home's electrical system, electrical supply, and local and national electric codes for safety and adherence. An electrician will turn off power to your pump, run conduit, check wire size for adequacy, attach the wires, and bond your pool pump motor according to electrical code. Pool pump wiring needs to happen before you can make use of you pool, usually right after installation.
Pool heater wiring: Electric pool heaters can be installed prior to pool installation, to keep your pool at a comfortable swimming temperature despite whatever Mother Nature has got planned. But that doesn't mean you necessarily have enough capacity to power it! Work in a licensed electrician to make sure you have the amperage you need to get your heat pump up and running in the first place. They can add extra capacity if needed, as pool pumps require their own circuit and a significant amount of power. Your electrician can also help you bond your heat pump to bring it up to code, and ensure safe and warm swimming for seasons to come.
Pool area lighting: Once you have your pool lighting installed, it's time to consider the pool area itself. Pool area lighting comes in all shapes and sizes, dependent on the ambiance you want to create, and the navigation options you want around your pool area. Consider lighting steps, pathways, and patios to make the most of your outdoor space during peak season (and beyond). You make want to incorporate landscape lighting to highlight trees, ponds, fountains, or gardens. Work with your electrician to create a lighting plan that takes all of the elements of your property into consideration, and helps you achieve the aesthetic you're after.
Your licensed electrical contractor will ensure your pool and spa electrical wiring installation is a smooth one. You can leave it to them to worry about safety, bonding, and inspections…which translates into a little bit more pool time for you.