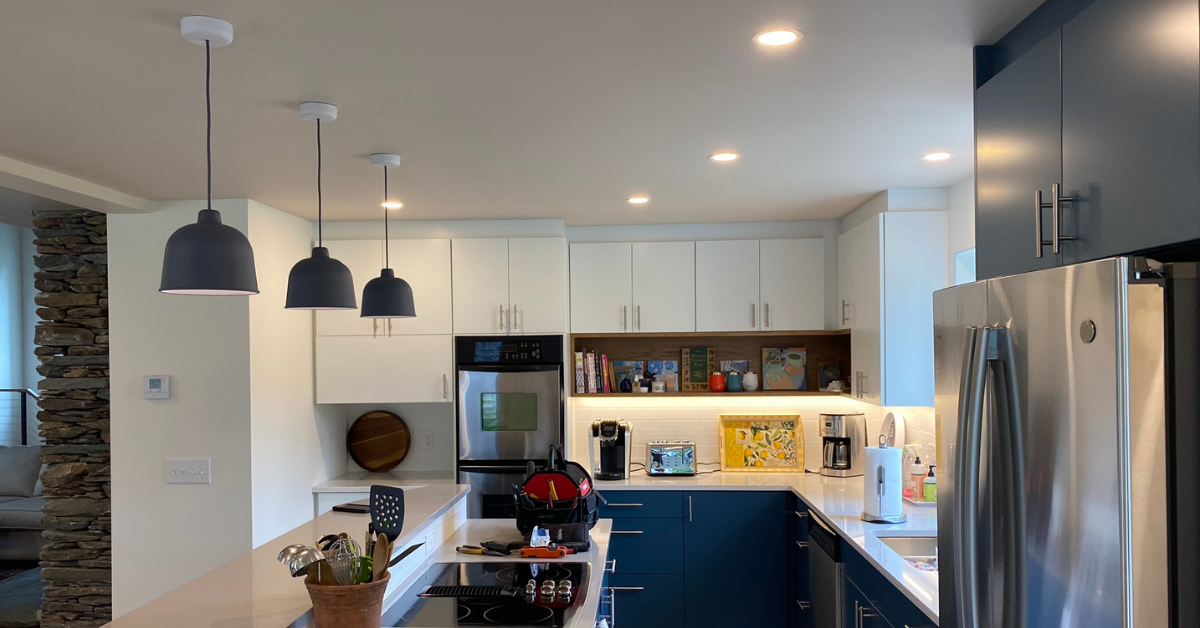 Considering remodeling your kitchen? As a natural gathering place in any home, this is an exciting undertaking. And naturally, you've considered how you want it to look and feel. Maybe you've even been dreaming it up for years. While you're planning, it's important not to overlook the electrical wiring that's behind-the-scenes in most kitchen upgrades.
Like any home renovation, it requires proper planning to bring the space of your dreams to life. It's important to make your new kitchen functional for all of the ways you need it to be in addition to being a beautiful space.
If this sounds overwhelming, it certainly doesn't have to be. Kitchens are one of the most commonly remodeled spaces in homes. Your licensed electrician is trained and experienced in kitchen renovations and the key electrical elements needed to keep it safe, up-to-code, and exactly as you've been imagining it.
Here are some of the top considerations when it comes to kitchen renovation wiring:
Outlets
Your outlet needs may change if you're expanding your kitchen space, or adding appliances or lighting fixtures. You may choose to add outlets or lighting where they didn't exist before, even if your kitchen's footprint is staying the same. In either case, it's important to plan your outlets and be realistic about how many you may need in the kitchen for modern living, which includes charging electronics, working at the kitchen counter, plugging in appliances, and more. A licensed electrician could help you properly plan the location of your outlets and install them for you.
GFCIs
For safety reasons, it's important to ensure all your outlets are grounded. Certain three-pronged outlets have ground-fault circuit interrupters, or GFCIs, integrated in them. They are designed to shut down electrical power when a ground-fault occurs and redirect the electrical current to the ground. This helps prevent shock, electrocution, and even death.
GFCIs are becoming more common, but in older homes, they're not the standard unless original outlets have been replaced. They're especially important in bathrooms, kitchens, and other areas of the home where water is used. So whether you're taking the opportunity to upgrade old outlets or integrated new ones, make sure they're GFCI for electrical safety and peace of mind.
Recessed Lighting
Incorporating recessed lighting into your kitchen remodel will increase functionality of the work space as well as aesthetic appeal. There are clear benefits of planning your recessed lighting layout before moving forward with kitchen wiring. For starters, you'll want to make sure your recessed lighting complements your existing kitchen lighting and doesn't compete or detract from it.
Planning ahead will also help you determine how many fixtures you'll need as well as their optimal placement for how you move, cook, and enjoy your kitchen space. Your recessed lighting placement will depend on the size and shape of your space, and whether they'll be your primary kitchen lighting source.
Under-Cabinet Lighting
When breathing new life into your existing kitchen space remember to consider all of the ways you use your space — whether it's staying the same with some modifications, or expanding. Naturally, the kitchen is the spot for preparing meals and making the most of your counter space (which you'll want to highlight more than ever if you're upgrading those countertops).
Consider whether under-lighting cabinets would add to your dream space by illuminating work spaces and highlighting backsplashes and countertops. Your licensed electrician can help plan out the best options for light distribution and uniformity.
So now that you've reviewed some of the key kitchen renovation elements in terms of electrical needs, think about your specific considerations, and reach out to your trusted electrician to get started.