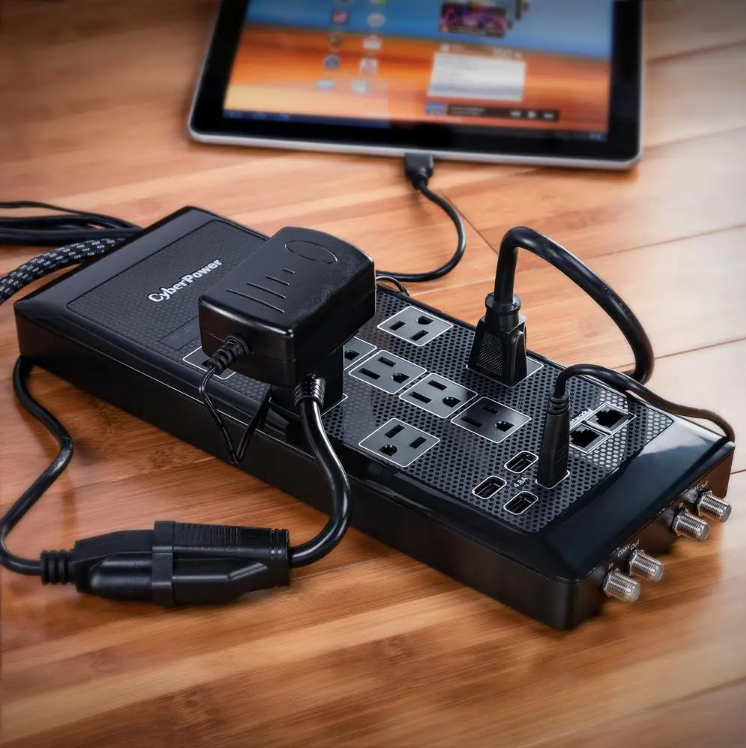 Ensuring your home maintains clean, stable power not only protects your family but your property as well. We'll look at the variety of surge protection options available today and how they help you protect what matters.
Power In Your Home Isn't Always Constant
Power fluctuations in the home are common and can occur hundreds of times every month. Fortunately, these occurrences are often a matter of only a few volts and can last millionths of a second, which isn't enough to impact devices (swings of up to 10% won't damage electronics). 
Modern electronics are built in such a way that a slight sporadic dip or swell in power won't fry them outright, but it's important to note that unstable power over time will shorten the device's lifespan and could interfere with its operation. If you've ever noticed that an HDMI port on your TV doesn't work anymore, that could be an example of power fluctuations leaving their mark.
Flickering Lights are a Red Flag
Flickering lights are the easiest way to spot these fluctuations, and though a flicker isn't generally a cause for concern it can be a symptom of larger electrical service problems. The National Association of Electrical Manufacturers goes into more detail on this point. There are easy measures you can take to prevent this from happening
We're Not Talking About Power Strips
A quick digression: people often confuse surge protectors with power strips, but that can be a dangerous mistake to make — there's an important difference between something that simply gives you more room to plug things in versus equipment that offers a useful degree of power protection. 
Surge Protection Devices (SPDs) Keep Your Home Safe
Some power strips, however, do offer surge protection. Commonly referred to as "surge protectors," these protected devices are technically called Type 3 SPDs.
Type 3 SPDs are typically the last line of defense between your electronics and potentially dangerous power fluctuations. These devices offer more peace of mind for things like TVs, computers, and other devices, but unfortunately aren't suitable for large appliances or even particularly powerful computer setups. 
Such appliances and equipment naturally account for the most expensive devices in a home, so ensuring clean, stable power can save you time, money, and the hassle of dealing with your home insurance if electrical issues take your expensive gaming rig or washer out of commission. But if you can't use a Type 3 SPD on your power-hungry equipment, what can a responsible homeowner do?
Superior Power Protection with Type 1 and 2 SPDs to Protect Your Entire Home
Type 1 and 2 SPDs are the solutions. A Type 1 SPD is permanently hardwired between the transformer and the utility side of the electrical equipment. These are your first line of defense and help protect your home from catastrophic bouts of overcurrent (like lightning strikes or utility work) by ensuring only safe power levels make it inside the home. Because this is the most powerful type of SPD, and because their installation requires a certified electrician, Type 1 SPDs are the most expensive form of protection at several hundred dollars.


Type 2 SPDs are the most common form of surge protection because they don't require an electrician and can be installed directly into the breaker box (this is known as the "load" side). It's best to use all three types of surge protection in your home — a Type 1 SPD installed on the utility side, a Type 2 SPD in the breaker box, and Type 3's to protect computers, game consoles, audio equipment, and other electronics.
Changes to the electrical code in 2020 require that Type 1 or 2 SPDs are installed on all new service lines. This also applies to homes and businesses that are upgrading their service lines. If your home was built in 2020 or after, had a breaker box installed, or your service upgraded, you can rest assured your home is protected. Give us a call if you'd like to ensure that your home is as safe as it can be: (401) 293-5255.