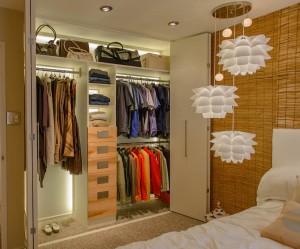 When you picture your dream home, you probably envision plenty of great closet space. It's spacious, organized, and full of flattering clothes and shoes that make you feel like a celebrity. Well, we can't have it all, but over the years we've discovered a little trick to improve your closet space without a major overhaul. The key is good lighting.
Most older homes on Aquidneck Island are typically not equipped with overhead closet lighting. And many closets never see the natural light of day. Even the deepest, darkest closet space can be brightened and effectively reinvented. Here are some ideas for closet lighting to get the wheels turning.
Directional lighting. Add track lighting, and point each bulb where you need it most — such as dark corners.
Dimmers. These are great for small, awkward spaces, such as closet corners in an older property. They can be built into shelves, even in tight spots, to shed a little light on dark spaces.
Chandeliers. Ohh, la la! Add a touch of elegance to your closet space by hanging a focal piece that offers more than a little light and glamour.
Motion lighting. No wiring required for this surface-mounted, LED option that turns on when you need it (and off, when you don't).
Shelf lighting. Lighted shelves can illuminate hard-to-see areas while offering an appealing aesthetic and functional design.
A beautiful, functional closet is pretty high up on most wish-lists. But whose dream closet is dark? Nobody's! Find the lighting solution that works for you, and consider layering your closet lighting to maximize the space.