Vacation-bound? It's a great time of year for it. We put together a list of six tips to help give your peace-of-mind and a truly worry-free vacation.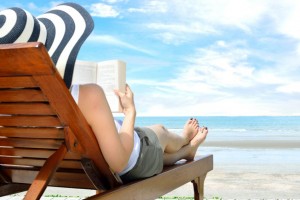 1. Unplug. We're not talking about keeping your cell phone at arm's length while you're away (although we highly recommend it). Remember to physically unplug any unneeded electronics in your home. This protects them from damage in case of a power surge, and prevents you from paying for any electricity they draw while they're not in use.
2. Post wisely. It's not a great idea to share your itinerary and return date with your social network in real-time. You never know who could be privy to that information, and it's safer to be private about your home being unattended. Wait until you're back home to share your photos and details.
3. Hit the lights. It's a good idea to keep your house looking bright, comfortable, and lived-in while you are away. An easy way to do this is by using programmable light switch dimmers inside your house, at your front door, for outdoor path lighting, and more. They are affordable and easy to install. Some products offer the option to set reminders and control certain fixtures with the touch of a finger, via your cell phone.
4. Budget accordingly. Stay with us here: sometimes hotels, cruise lines, car rental providers, and other services put a hold on your account for an amount that surpasses what you actually spent. This is in case of damages, and the "charges" lift once you check out. But it can put a wrench in your plans if it ties up funds that you intended on using. Find out exactly what will be charged to you, by whom, and go from there.
5. Call your bank. You should inform the bank behind the credit or debit cards you plan on using while you're away. That way they won't put a hold on charges that come from somewhere you don't typically incur expenses. With a quick call and a simple note on your account, you're good to go.
6. Hold your mail. This depends on how long you'll be away. You may not be lost without your junk mail if it went missing, but your bank statements and other confidential information is a different story. Don't want to go that route? Have someone you trust pick it up for you every couple of days instead.
Safe travels!