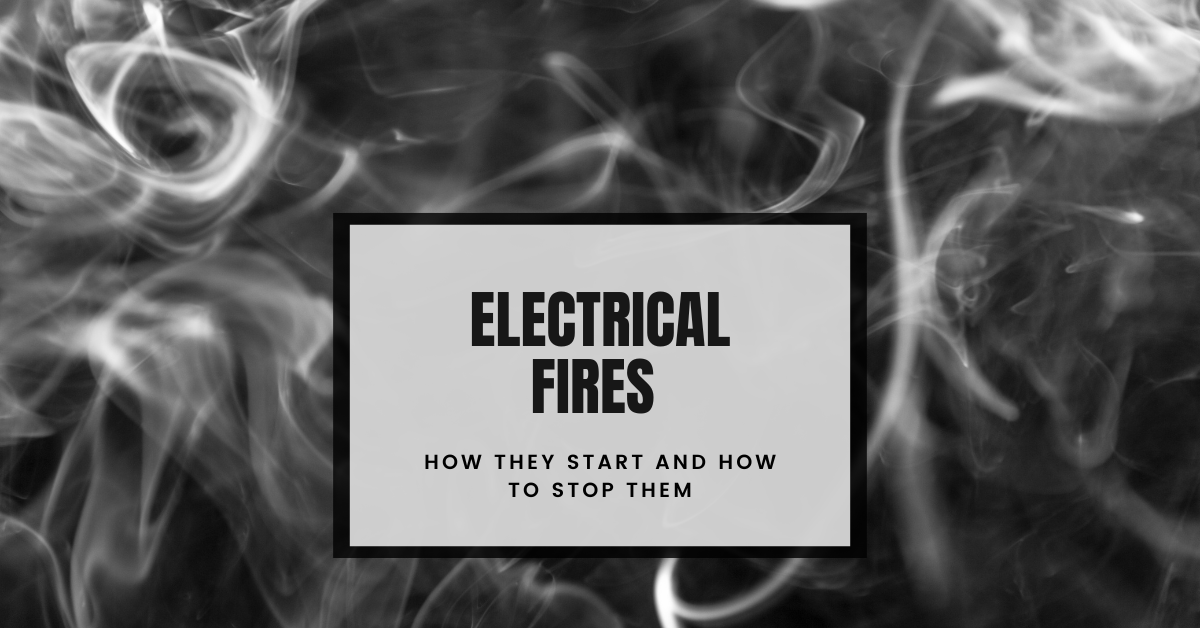 In today's world of modern appliances, games, and electronics, it's common to take for granted how easy it is to power up a room. But ignoring the dangers of this energy form can be devastating. Since knowledge is another form of power, it's helpful to know how electrical fires start, how to handle them, and how to avoid them.
How Electrical Fires Start
Home fires happen when an electrical malfunction causes what's known as "arcing." This can occur in virtually any electrical fixture or equipment with damaged wiring, a loose connection, or a faulty switch. An overloaded cable or socket that wasn't installed properly can overheat and burn the insulation that surrounds the wires, igniting a blaze.
Sometimes, this is due to normal aging. Over time, the wiring in switches and outlets starts to wear out. Older homes are particularly vulnerable to becoming a source of arc faults. But any electrical system can become overloaded if it's being asked to provide electricity to too many appliances. Any home can become a victim to fire due to stressed power cords, defective outlets, or sockets that aren't properly grounded.
Since about one-third of electrical fires happen during the colder winter months, now is a good time to check your home's fixtures, appliances, and outlets for any signs of trouble.
Handling An Electrical Fire
The first thing to do with an electrical fire is to cut the power source (but only if you can do so safely). Never pour water on an electrical fire — unless it has been unplugged.
In cases when that's not possible, try smothering it with baking soda. Small fires can also be covered with a dense blanket or another fabric item to suffocate the fire. If you use the blanket method, try to avoid fanning the flames to other areas.
For electrical fires, choose a class C fire extinguisher. Read the usage instructions on the canister — preferably before you need it!
Avoiding Electrical Fires
Most electrical fires start in the bedroom, but in reality, a fire can start in any room. Take an inventory of everything you use for cooking, cleaning, heating, and working, and check all their cords for damage. Finally, make sure light bulbs are the correct wattage for their fixtures.
Never place cords across doorways or under furniture since stepping on cords can damage them. Also, don't cover cords with carpets, which can cause them to overheat. Turn off devices before plugging or unplugging them. Whenever you can, retire worn-out appliances that draw a lot of power as they may not meet today's safety standards.
Portable heaters are a common cause of fires, especially when they're placed next to curtains, couches, or beds. Never leave these units running when you aren't home. Phone chargers are another major cause of electrical fires. Watch out for charging devices that feel hot to the touch.
Avoid plugging too many items into a single outlet, and don't connect extension cords. Instead, use a single heavy-duty extension cord and operate only one appliance at a time. If you're short on outlets, it's time to hire a licensed electrician to install more.
Using each of your senses, pay attention to these electrical issues:
Look for discoloration around the accessory (usually orange or black)
Listen for buzzing sounds that could indicate arcing in loose wires
Take notice of any burning or rubbery smells
Watch for smoke from any electrical items
Check cords for kinking, fraying, or other damage
Pay attention to tingling when touching an appliance
Don't ignore wiggly outlets or loose plugs
Now that you've learned about small things that can turn into big problems, use your best judgment and know when it's time to call an electrician. Griff Electric can help you identify electrical fire hazards and make necessary repairs to your electrical wiring. Call us to discuss your questions or concerns about electrical fire safety: (401) 293-5255.