A simple light bulb switch is the secret to keeping more money in your pocket. Replacing incandescent light bulbs with LEDs (light-emitting diode) lights results in instant savings. According to the U.S. Department of Energy, "Upgrading 15 of the inefficient incandescent light bulbs in your home could save you about $50 per year." Why? Well, 90 percent of the energy in old bulbs is given off as heat, and therefore wasted. LEDs offer 75-80 percent energy savings, considered among the most energy-efficient and rapidly developing technologies today. They are silent, safe and versatile, with a range of colors and shapes to replace almost any bulb. Here's how to start saving in your own home today:
1. Task lighting adds light only where it's needed, reducing overall lighting costs. Popular examples in your own home may include under-cabinet lighting, kitchen island lighting, and wall sconces. To soak up the savings, switch these lights to LED. You'll only be casting light where you need it most, and you'll also be doing it in the most efficient manner possible.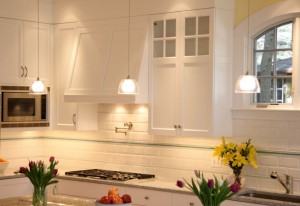 2. Traditional track lighting bulbs get very hot and don't last long, yet manage to suck up a great deal of energy. LED track lighting is gaining worldwide popularity in lighting homes and businesses. They take up less real estate, freeing up space. They're bright, but use less energy. It's the smart way to save space! Swap out your kitchen, bedroom and living room track lighting for LEDs, and start saving.
3. Switch outdoor lighting to LED and reduce wattage, supporting green technology. Path light fixtures, box lights and bullet fixtures are some that should be switched to LED for instant savings. Each bulb lasts a projected 10 times longer than traditional bulbs – resulting in a whopping 40,000 hours rather than 4,000.
With extreme efficiency and a heck of a long bulb life, the LED advantage is clear. Utilize these quick tips in your home now!