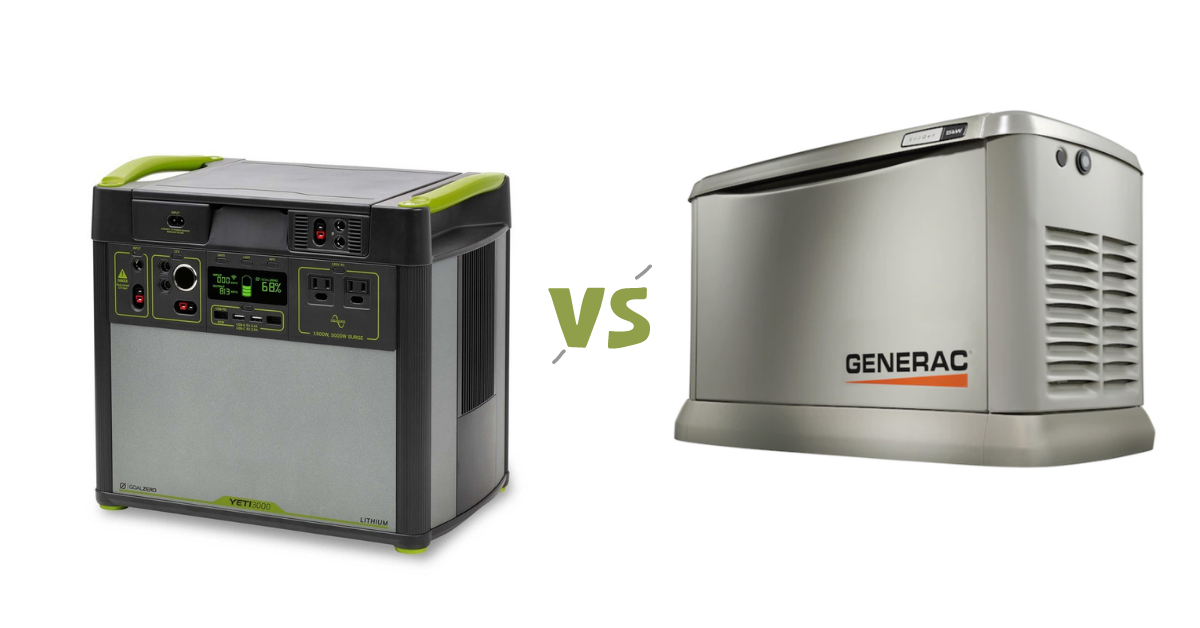 Let's face it, most of us never worry about our home's electrical needs until we lose power. Most of the time, our homes and offices are powered reliably with no interruption in service. But when a power failure does happen, it causes a major disruption in our lives. Having a backup power supply ensures that the critical parts of your home will always have electrical service, even in the event of a power failure. 
Fuel-powered standby generators have dominated the market with an estimated increase of 70% in the past year alone. Battery-powered backup systems provide the same security and peace of mind you'd get with a fuel-powered generator but without the hassle of dealing with fuel. Plus, they're cleaner, quieter, more environmentally friendly, and may save you some money. But are they necessarily the better choice for your home? Let's compare the two.
How home battery backups work
Home battery backup systems perform the same functions as a generator but work in a completely different way. Rather than receiving fuel through gas lines, they connect directly to the power grid and store electricity rather than creating it. During a power outage, the home battery will automatically restore the power throughout the home using its stored energy.
The upfront cost of battery-powered backups
Battery-powered backups are pricier upfront. You'll need to pay for the backup battery system unit plus installation, which can vary based on the battery model and wattage. 
The upfront cost for generators is slightly lower. However, they need fuel to run which means that you'll spend more money over time to maintain a steady supply. Given the fluctuating cost of fuel, this could add up to a lot of money depending on how often you have to use it.
Installing a battery-powered backup
Since battery backups can be simply mounted to a wall or floor, they have a slight advantage over standard generators which need additional labor to be installed on a concrete slab and connected to a fuel source. Additionally, unlike standard generators which are unsafe to store in your garage due to the risk of carbon monoxide poisoning, home battery backup systems do not require an exhaust area. They can be safely installed inside your garage, or even inside your home, by a licensed electrician.
Maintenance 
Battery backups are quieter, run independently, don't produce emissions, and do not require regular maintenance. Fuel-powered generators, on the other hand, are noisy and disruptive while in use. They also emit exhaust or fumes depending on the type of fuel they use. Service contracts for standard fixed generators are recommended twice a year and can also cost around $150 to $300 per visit given the amount of time and labor it takes to inspect fuel lines and connections and repair damaged joints or cracks. Battery backups rarely require any repair work as long as they are kept in the recommended environment. Plus, most battery backups, like generators, also come with extended warranties, assuring your safe investment.
Long-term use
While battery backups are extremely useful in short-term outage situations and can provide power for a few hours or more depending on the type of system, they are not equipped to handle long-term outage situations. Standard generators, if maintained correctly, are able to run continuously for weeks at a time which makes them a much better fit for outage situations, such as hurricanes, when the power restoration time is unknown or will take longer than 24 hours.
The Verdict 
Before you reach any decision regarding your home's power needs, you should first evaluate your home's electrical output to understand how much energy your appliances require. We're happy to assist you in determining what will be the right choice for your home. For more information about backup power supply options, read more on our blog here, or contact our licensed electricians for information about our services.