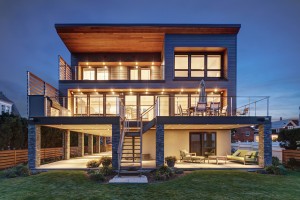 Recently Griff Electric partnered with Ikaria to create a unique waterfront home in Cranston, RI. It's been such an exciting and gratifying project that we wanted to share a bit more about it with you here on our blog. Architect Mark Lawton discusses some of the energy and electrical features of the home in this Q&A below.
Something Mark is known for, and which was clearly expressed through this home, is combining leading edge technologies with timeless design principles used by ancient cultures. Here he highlights how he integrated the natural surroundings of the home with its interior and exterior lighting designs and how strategic lighting fixtures create a style.
The home has very large windows and doors. How did this play a part in the lighting design?
This house was conceptualized as a "view camera" to capture the views of the ocean on one side and the yachting channel on the other. Coupled with this was the desire to gather as much natural light as possible. The large windows frame views, afford ample sunlight, and create cross ventilation for cooling the house. The lighting scheme compliments this by having dimmers on all the lights to react to the ever changing daylight. The centralized stair atrium window was designed to be a "window" into the circulation of the house and to showcase the modern chandelier at the top of the landing.
What were your considerations when you designed the outdoor lighting scheme?
The house has a rich texture to it: deep red/brown western red cedar siding and modulated painted cement board. The lighting was used to highlight this. There are also several outdoor patios and decks that become quite amazing when illuminated at night, creating a real sense of place outside. The carport was also envisioned as an actively used space so the lighting is bright and energetic.
Were there any unique or custom aspects to the home that guided the lighting design?
In general, it is a very minimalistic modern house with all white walls. The lighting was designed to evenly illuminate the spaces, really to just present them as well-proportioned compositions.
Is there an aspect of the lighting design that you are most fond of?
I particularly like the modern globe chandelier at the top of the stairs. It reminds me of earth at night as seen from space.
Did the home owner have any specific needs or requests you accommodated through custom design?
We designed a minimalistic recessed tray ceiling in the main living space. To make it appear to float, we used a continuous hidden LED strip to illuminate the perimeter.
Did you use LED lighting throughout the house, or only in specific areas?
LEDs are used almost exclusively in the house. It just makes sense to utilize energy saving fixtures in a new house. They also last longer and give off less heat than conventional lighting.