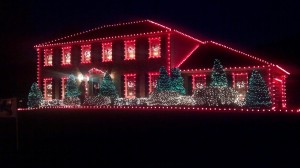 Believe it or not, it's time to start decking the halls once again! It's a magical time of year, but it can also be a dangerous one if you are careless with your holiday decor. A few simple measures can make all the difference in keeping your home and family safe while you're trimming the tree and awaiting Santa's arrival. Here are our top 5 tips for holiday lighting safety:
5. Check your Christmas lights every year. Be on the lookout for broken bulbs and frayed wires and replace as necessary. As a general rule, don't connect more than three strings of lights at a time. Turn off all electric candles and lights when you're not home and keep them away from water, children and pets.

4. Be careful with your tree. Live Christmas trees present more of a fire hazard. If you opt for a live tree, keep it watered to prevent the needles from getting too dry. Keep candles, space heaters and other heat sources far away from the tree. If you have an artificial tree, be sure that it's fire retardant.

3. Don't overload power strips or outlets. Overloaded outlets carry extra electricity, generating heat and potentially causing fires. They can also burn or shock you. It can be tempting to plug as much as you can into one spot but it's not worth the risk.

2. GCFIs. Just as it's essential to have GCFI outlets inside your home, you should have them outdoors, too. GCFI stands for Ground-Fault Circuit Interrupter. If there's any danger with the electrical flow, the GCFI instantly stops the flow. This prevents harm to you and damage to your home. A licensed electrician can very easily update any outlets that need it.

1. Weatherproof outlet covers. These help to protect outdoor outlets. They're inexpensive and are so important to electrical safety that the National Electric Code requires them. Plastic bubble covers keep cords and outlets from being exposed to outdoor elements. This goes a long way in preventing shock and fire.
While visions of sugarplums dance in your head, we hope these electrical safety tips will, too. Check them off your list early in the season so you can better enjoy the magic of the season with family and friends. Happy holidays!