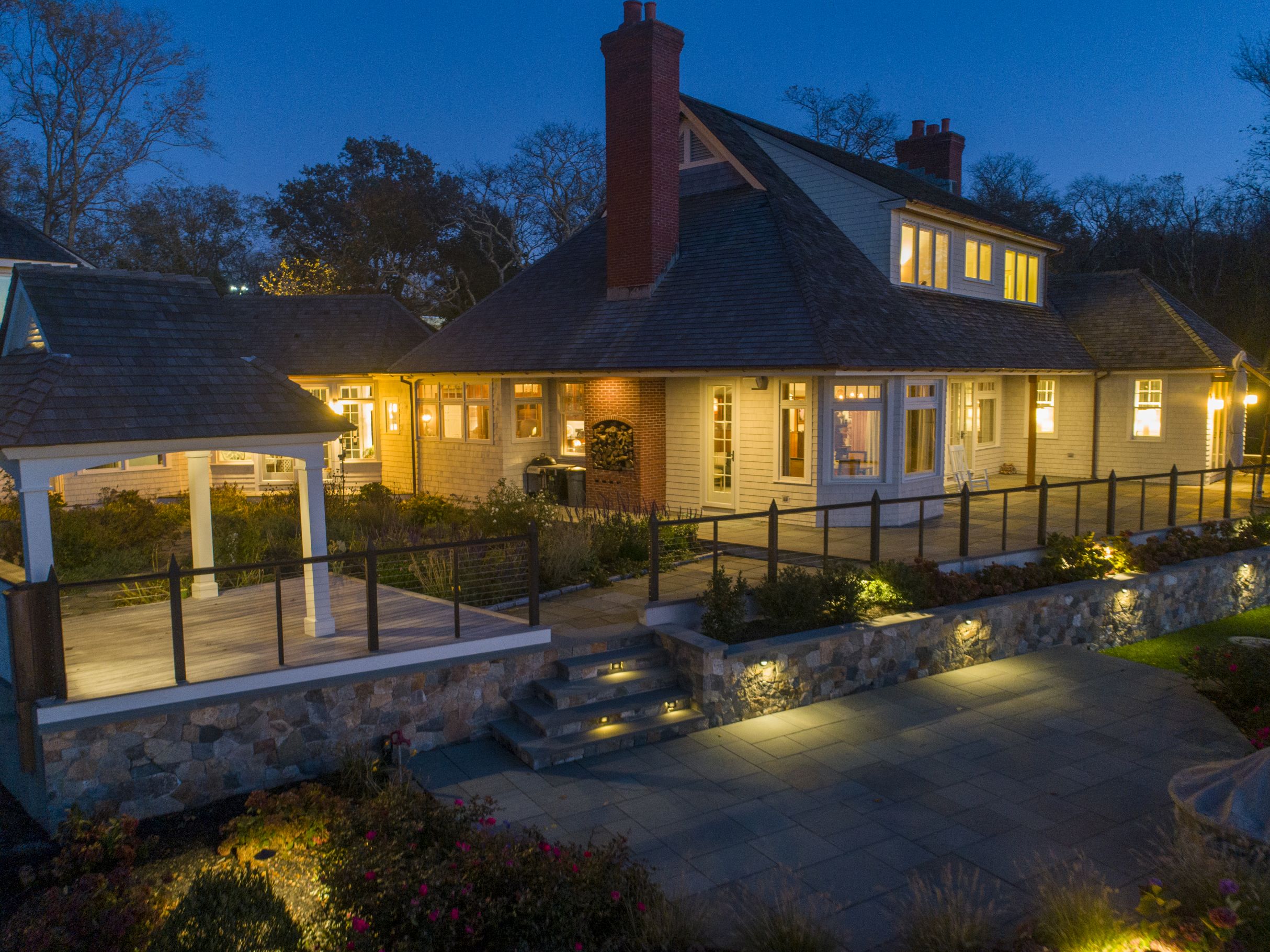 When we think of lighting, we often think of the kind inside of our homes or work spaces that keep them safe, functional, and comfortable from room to room and day to night. But what about the exterior of the property?
Incorporating lighting outside can be just as important especially when it comes to increasing curb appeal. In fact, it's one of the quickest ways to do just that.
We're not just talking about a light on the front porch, or motion sensors that promote safety (although there are great ideas that we can help you with, too!). We're here to discuss landscape lighting, which brightens the outside of your home, highlights its architecture, and showcases the hard work you put into your property.
So what is landscape lighting?
Landscape lighting is a broad term, encompassing many things. Simply put, it's lighting that highlights certain elements outside of the home, or the home itself, to add to its visual appeal. Exterior lighting can illuminate walkways, paths, and patios, or focus on unique elements on the property, including gardens and trees.
Uplighting is great for highlighting key architectural details, while well-placed downlights can help provide a moonlit feel. It's a good idea to create a cohesive landscape lighting plan with your local, licensed electrician to create the desired effect. But they sky's the limit when it comes to reinventing your property come nighttime.
Here are some key benefits.
And it's about more than just brightening your property for the sake of better lighting. Landscape lighting makes your property feel warmer and more inviting. Think of it this way: At the end of a long day, would you rather arrive home to a dark or a well-lit home? Which would give a better impression to guests, visitors, and passersby?
For most people, light in all forms actually brightens their moods. Landscape lighting can be incorporated in ways that are chic, cozy, and everything in between, depending on your property and your preference.
Now, let's touch back in on the idea of curb appeal. Landscape lighting adds interest, period. It naturally draws the eye, and shows that the homeowner takes pride in their property.
Not only does it make your home easily noticed, but it increases its safety, allowing your family and guests to navigate the area, day or night. A less obvious benefit of landscape lighting is that a well-lit property that includes multiple design elements is a deterrent for anyone looking to enter uninvited, as well.
Your local electrician can help.
Whether you're putting your home on the market, want to highlight elements you love, or just want to add to its overall appeal, your local electrician can help you map out a landscape lighting design plan specifically for you.