We all know that if you see a fallen power line, you steer clear. But what about exposed wires in your home?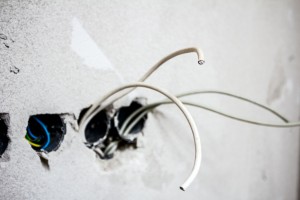 Actually, it's not just wires you want to look out for. Exposed wires and electrical parts are dangerous. Here are some things to watch out for:
● Exposed junction boxes
● Uncovered or cracked electrical outlets
● Uncovered light fixtures
● Loose wires in the attic or elsewhere
● Frayed, damaged wires and extension cords
If you see any of these, you should immediately recognize them as a safety hazard. The Occupational Safety and Health Administration (OSHA) and the National Electric Code require wiring to be covered, to prevent contact with conducting materials. Stay away, and call a licensed electrician. Often, exposed wires can cause electrocution or fire.
These no-nos are common in older homes, where wiring has corroded. But it can also result from poor do-it-yourself jobs, or improper installation.
No matter what, it's important to remember that exposed electrical parts present significant dangers. Call your licensed electrician if you spot exposed wires in your home or business. They will act accordingly to repair, replace or secure the receptacles and restore your safety.